In January 2019, we announced our plans to invest in two new fully automated distribution centres in Queensland and New South Wales. The new facilities will improve product availability and freshness for customers while improving workplace safety and driving supply chain efficiencies that will ensure the future sustainability of our business.
Coles is progressing well towards opening its first fully automated DC in Redbank, Queensland (QLD). Partnering with Witron Logistik, an industry-leading automation provider, the Redbank ADC is on track to be commissioned in 2023.
This page is a source of information for suppliers: please check back as it is developed and updated.
A message from our Program Sponsor
Click below to learn more from Kevin Gunn, Executive General Manager of Central Operations & Transformation, about strategic changes to our supply chain network and our new ADCs.
Supplier Automation Readiness Handbook
Check out the Supplier Automation Readiness Handbook to learn more about what our new ambient ADC in Redbank, Queensland and what it means for you.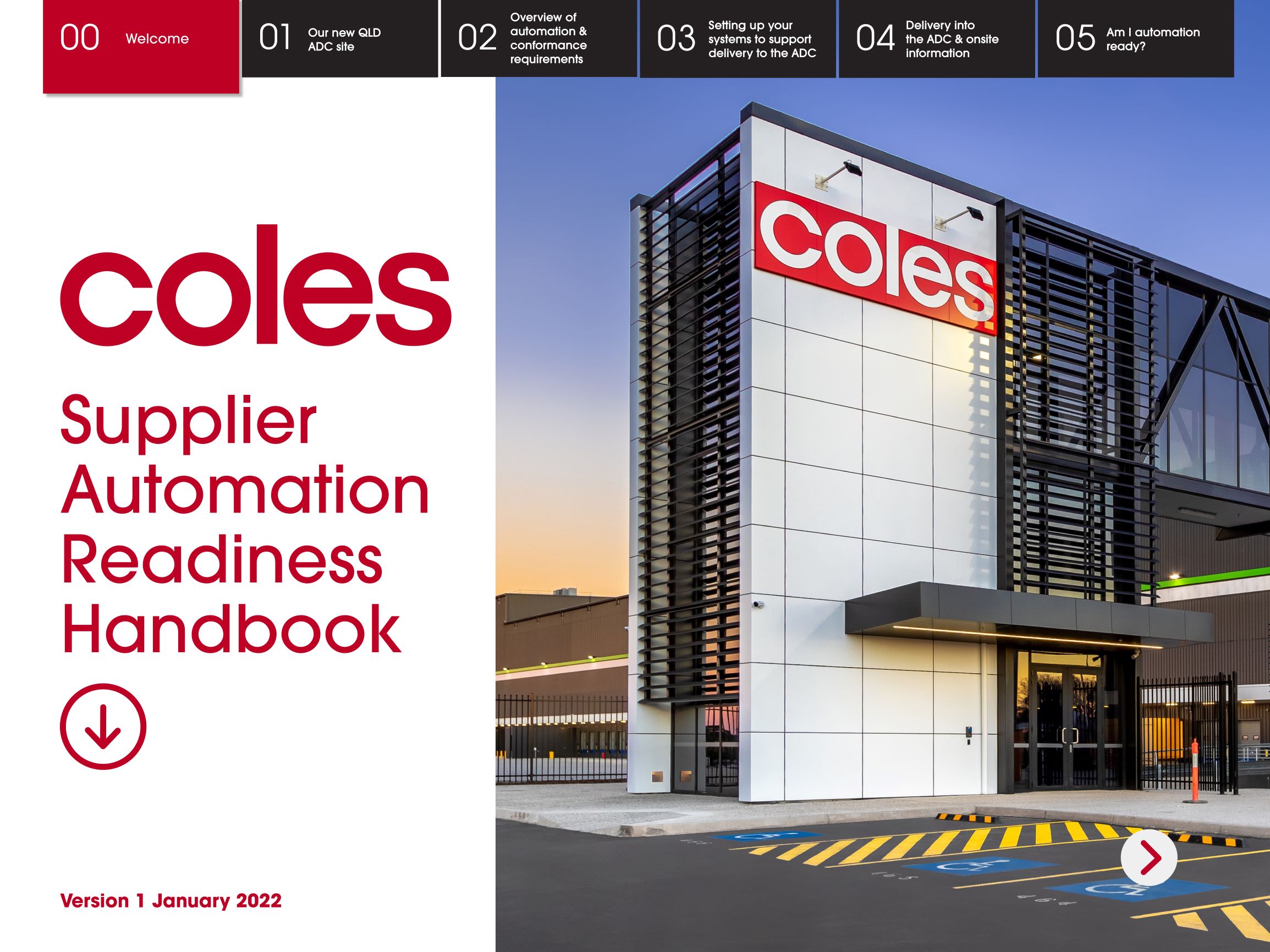 Spotlight on conformance
Our Supply Standards are the key to doing business together to ensure the safety of our team members, great on-shelf availability, and more efficient end to end operations. As technology is embedded in our network, complying to our standards becomes more critical than ever.
Our recent conformance audits have highlighted a number of ADC critical conformance issues. Click below to see if you're meeting our Supply Standards:
Cole Supplier Automation Readiness Webinar Series
To get you ready for the change, we're rolling out the Coles Supplier Automation Readiness Webinar Series. This three-part webinar series, is designed to provide an open forum where we can engage directly with you about critical conformance requirements, share with you our plan to transition your products to the ADC and discuss changes to our delivery and operational requirements.
Contact
Any general questions you have before this release can be directed to colessupplierconformance@coles.com.au
Further information relating to setting up your systems, booking deliveries, how and when to transition your products, driver induction and more will be included in the second iteration of the Handbook, coming FY22 Q4.