With Coles rapidly moving towards a fully integrated scan receiving and electronic invoice process, B2B results in the removal of manual processes and paper documents. These manual processes are replaced with the following electronic documents:
Purchase Order (PO)

Purchase Order Acknowledgements (POA)

Advance Shipment Notice (ASN)

Electronic Invoice (eI)
The benefits for suppliers moving onto the B2B Electronic trading process include:
Electronic invoice (eI) sent directly to accounts payable, avoiding 'lost' invoices

Reduction in claims

Faster truck turnaround time

Reduction in receipting discrepancies
Support to suppliers:
Coles Suppliers are given the necessary support to implement B2B in a timely manner. Our B2B requirements will be discussed with you, this includes operational requirements and a step by step process to successfully implement B2B.
Accreditation Testing:
In order for suppliers to become accredited to trade using the B2B process, Coles suppliers participate in a comprehensive testing program. This program is provided by the eCommerce Implementation Team (eCIT) and is known as 'Accreditation Testing'. The team can be contacted via eCIT@coles.com.au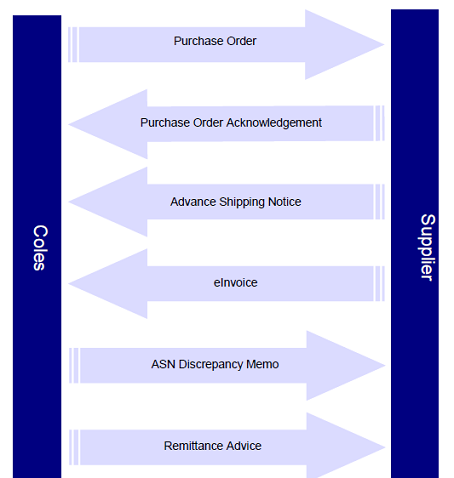 How to become B2B compliant 

 
In order to become B2B compliant please refer to the following: 

 
B2B Business Rules and Standards


B2B Implementation - the initial steps required to get started with B2B


Register your details to receive updates on B2B eCommerce.