Coles has established the Coles Nurture Fund (CNF) to help small Australian food and grocery producers, farmers and manufacturers to innovate and grow their business.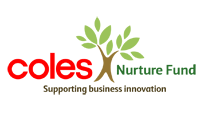 The Coles Nurture Fund will allocate $50 million over five years in grants and interest-free loans to fund the development of new market-leading products, technologies, systems and processes.
The Coles Nurture Fund is one way Coles can offer support and encouragement to small Australian businesses looking for assistance to take the next step in creating more productive and innovative ways of working.
Applications for the next round of the Coles Nurture Fund are now open.
To find out more or to apply please go to www.coles.com.au/nurturefund